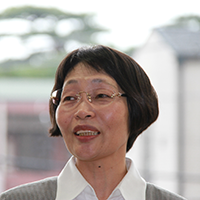 Nonprofit Organization Family House
The Chairman Yachiyo Eguchi

Former Chief Nurse, National Hospital Organization
Recipient of Medal (The Order of the Sacred Treasure, Gold and Silver Rays)
Family House began its activities in 1991 in order to offer accommodations for families of children with chronic life-threatening and life-shortening illnesses who have come from rural areas to large hospitals in Tokyo for their treatments.
Initially, the movement started at the thought that it would be wonderful if we could offer "second homes," moderately-priced, secure and safety accommodations for children suffering from intractable diseases and their families so that they can concentrate on nursing their children as well as share their woes.
Family houses are now expected not only to provide less expensive accommodations but also to play a role as a part of total care.
Families can feel a sense of community in our houses because they can spend with their family members and can interact with other families, our staffs and volunteers. We, with care professionals, take care of families so that they can rebuild their daily life.
Our activities have been supported by a great number of volunteers. At first, we worried whether this would be taken hold as voluntary activities. However, Family House has been continuously supported by not only individuals but also company employees. Our activities have been well known because of supporters who offered rooms without charge and many volunteers.
Similar activities have been spread throughout the country. Although operation styles vary, each house is run by non-profit basis with local supporters. Nationwide conferences of these houses have been held annually since 1997 to exchange ideas and improve care quality. In 2013, we made a competency list of house professionals, which consists of three dimensions such as mind, skill, and knowledge. It became useful for house management and staff training.
It has been more than 25 years since we started our activity. In the meantime, the situation surrounding the family house has been changed. Due to advancement of medical treatment and changes in healthcare policy, the needs of houses have been diversifying and higher. Collaboration with hospital professionals has also been required.
In order to respond to these changes, we want to create an "ideal (unconventional) house". Although there are many challenges, we move forward towards a dream to build the house for children and their families.
We would like to go forward into the future with you and keep in mind that our mission is to support children and their families providing safe accommodation and caring community so that they can concentrate on treatment.
We would be grateful for your understanding and support.
Nonprofit Organization Family House
November 12, 1991
November 15, 1995
Fujino Building 3rd Floor
1-13-5 Kandasudacho, Chiyoda-ku, Tokyo,
101-0041  Japan
TEL:+81- 3-6206-8372
FAX:+81-3-3256-8377
E-mail: jimukyoku@familyhouse.or.jp
Yachiyo Eguchi
(Former Chief Nurse, National Hospital Organization
Recipient of Medal (The Order of the Sacred Treasure, Gold and Silver Rays))
Kimiko Iwase
(Associate Professor, Department of Nursing, Faculty of Nursing and Rehabilitation, Konan Women's University)
Ako Hosono
(Chief Medical Doctor, Department of Pediatric Oncology, National Cancer Center Hospital East)
Chief Executive Officer / Trustees
Yoko Ueda
Kiyoshi Igarashi
Hirohisa Kano
Hatsumi Tanaka
Tomoyuki Yamada
Yasushi Ishida
Hideo Kojima
Yukie Hasegawa
Kathleen Reiley
Kyoko Oki
Kenta Koyama
Ryoko Hata
Atsuko Ozawa
Kimiko Sakai
Rei Yanagimachi
Minoru Naruse
Ryohei Kawase (Former Vice Chairman Family House)
Masaaki Tonegawa (Certified Public Accountant)
Toshihisa Nagasaka (Former Professor, Faculty of International Studies, Takushoku University)
Tatsuro Fukukawa (Former Manager, Yokohama Branch, Mitsubishi UFJ Trsut and Banking Corporation)
Eiichi Moriyama (Lawyer / Former Chief Public Prosecutor)